M5 Management and Australian Cycling Academy announce new alliance
Posted by Phil Stoneman - Christine Coates on 22 May 2019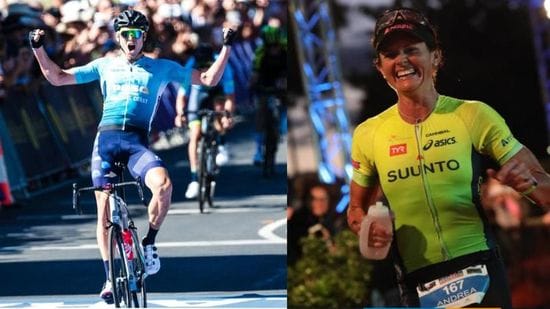 FOR IMMEDIATE RELEASE
May 22, 2019
M5 Management and Australian Cycling Academy announce new alliance
M5 Management's Triathlon Academy and the Australian Cycling Academy have formed a strategic alliance to assist in talent identification and extend the sporting career options available for their athletes.
Founded by Phil Stoneman, M5 Management's triathlon academy is based in Brisbane. The Australian Cycling Academy (ACA) founded by internationals Matt Wilson and Ben Kersten is located at the University of Sunshine Coast campus. Both entities operate in similar sporting circles in areas of talent identification and career development, and the core synergy they share is the positioning of athlete wellbeing as their primary focus. Under the framework of the alliance, both parties will identify and direct the talent best suited for either M5 Academies (Triathlon) or the Australian Cycling Academy. Athletes at both academies will also benefit from opportunities to train together and share their expertise.
"I've long respected and supported the work Matt and Ben have done in establishing the ACA, and it's been a pleasure to watch the academy team build on their success year on year", said Phil Stoneman.
"Phil and M5 Management have been a wealth of experience and knowledge for the ACA to draw on over the past two years, and we share the same values and philosophies focusing on the athlete as a whole person. We are thrilled to formalise a partnership that will give athletes further specialised pathways in sport and in life," said Australian Cycling Academy Director Ben Kersten.
"It's not uncommon for athletes to try several sports before they find their niche. A great example of the success of this approach is M5 athlete Melissa Hauschildt who successfully transitioned from steeplechase/middle distance at international level to triathlon. Our partnership with the Australian Cycling Academy is about identifying the best Australian talent and finding the right fit for each athlete. If athletes make the decision to transition to cycling or triathlon, the alliance ensures they have a clear pathway and immediate support," said Stoneman.
"Our newly branded 'Pro Racing Sunshine Coast Team' has gone from strength to strength since we launched 18 months ago. We have competed in 10 countries around the world, recording 126 podium finishes and a remarkable 73 wins including UCI, National and Oceania titles at junior and senior level, multiple Commonwealth Games gold medals and a World Record. We recently launched our first women's team in conjunction with Cycling Australia which has four podium potential riders that are on track for selection for the 2021 national teams for the World Championships and Tokyo Olympic Games" said Kersten.
"I'm looking forward to working with the ACA team. Our M5 Academies are expanding to meet demand including the introduction of a pro-team in April and it will be extremely helpful to have another set of experienced eyes scouting for talent", said Stoneman."
To learn more about this alliance, or to arrange interview Phil or Ben please contact:
Philip Stoneman
Executive Director, M5 Management
M: 0414 643 912
Ben Kersten
Director, Australian Cycling Academy
M: 0405 697 085
About M5 Management
Founded in 2009, M5 Management is one of Australia's leading commercial sports agencies offering athlete management and career development, consulting services for sporting federations and event rights holders, and M5 Storytelling featuring a select number of athletes with engaging stories to tell for corporate audiences. With over 15 years' experience, M5 offers industry knowledge, domestic and international networks and client commitment that is unique to the Australian market.
In addition to our Tokyo Trio, M5 is proud to represent some of Australia's leading athletes such as Ironman and Olympic Swimmer Ky Hurst, Melissa Hauschildt (Triathlon), Gabi Simpson (Netball), Jess Ashwood, Jack McLoughlin and Shayna Jack (Swimming) and Matthew Hayman (Cycling). M5 speakers include Olympic basketballer Shane Heal, Hockeyroos Olympic Gold Medallist Nikki Hudson, and Kona triathlon champion, Pete Jacobs.
About the Australian Cycling Academy
The Australian Cycling Academy is a cycling development program and UCI Continental Professional team under the auspices of Pro Racing Sunshine Coast which is the region's only international sports team.
Founded in December 2017 by former professional cyclists Ben Kersten and Matt Wilson, the program Integrates high-performance, tertiary study and professional mentoring, from a single hub at the University of the Sunshine Coast.
In line with the ACA's 'Live, Learn, Ride' philosophy, 11 of the team's 20 athletes are also undertaking tertiary studies under the guidance of the ACA.
The ACA is fully committed to supporting the local community and its key economic drivers including tourism, charity and elite cycling events, while also operating full-service training camps, online coaching and a school education initiative.

Images supplied are approved for media publication:
Michael Freiberg, Australian Cycling Academy Team Member, 2019 Australian Road Race Champion.
Andrea Maloney, M5 Academies (Triathlon) currently ranked world number 1 age group athlete (35-39)
Author:Phil Stoneman - Christine Coates
Post comment