Jack & Jack making a splash on their way to Tokyo 2020
Posted by Phil Stoneman - Christine Coates on 18 March 2019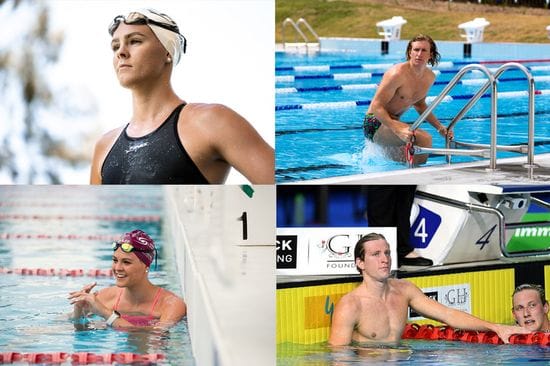 FOR IMMEDIATE RELEASE
March 17, 2019
'Jack and Jack' - making a splash on their way to Tokyo 2020
It's a tale of two elite Australian swimmers competing in blue riband events; one a speed specialist in the 50 and 100 metre, the other an endurance champion in the 1500 metre distance event.
Fresh from their gold medal winning performances at the 2018 Gold Coast Commonwealth Games, Brisbane-based swimmers Shayna Jack and Jack McLoughlin are now entering the final 18 months of their Tokyo Olympic campaigns. Rising to the challenge, both swimmers have increased their training program and intensity in preparation.
Shayna who previously trained with Cate and Bronte Campbell under coach Simon Cusack has opted to remain in Brisbane with new coach Dean Boxall. Jack McLoughlin is based at Chandler with coach Vince Raleigh.
Whilst 'Jack and Jack' share a common Olympic goal, they have vastly different personalities. Shayna is extroverted and outgoing, whilst Jack prefers to let his swimming do the talking. Both are managed by Phil Stoneman at M5 Management who encourages them to chat about their life in and out of the pool, and what they can learn from each other.
Unsurprisingly the pair are preparing for vastly different careers outside of sport. Shayna is undertaking a Sports Management degree at Griffith University, whilst Jack is studying Civil Structural Engineering at Queensland University of Technology.
Here's what they have to say about each other:
JACK: "Shayna is an athlete on the move and the heir-apparent to the international speed queen crown. She is a positive, upbeat member of the Aussie swim team and great fun around the pool. But when it's race time, she switches into race mode with laser focus."
SHAYNA: "Jack is a no-nonsense quiet achiever who simply gets on with the job. He has a great work ethic and is known for his self-discipline including following his training program to the letter! I have very high hopes for him in Tokyo."

For further information please contact:
Philip Stoneman
Executive Director, M5 Management
M: 0414 643 912
FURTHER INFORMATION:
JACK MCLOUGHLIN BIO
EVENT: SWIMMING - 1500 FREESTYLE
HIGHEST ACHIEVEMENT: 1500M FREESTYLE COMMONWEALTH GAMES GOLD MEDALLIST
Jack McLoughlin began his swimming career as a middle-distance swimmer winning gold in the 4 x 200m freestyle at the 2013 Australian Youth Olympics. After transitioning to long distance swimming, Jack cemented his position as one of Australia's best endurance swimmers. Jack qualified for the 2016 Rio de Janeiro Olympic Games by dropping 24 seconds in the 1500m Freestyle and went on to finish 3rd in his heats and 9th overall. Two years on; Jack has won gold on a world stage securing gold in the 1500m and silver in the 400m freestyle at the 2018 Gold Coast Commonwealth Games.
Career Highlights
Gold Medallist 1500m Freestyle 2018 Commonwealth Games
Silver Medallist 400m Freestyle 2018 Commonwealth Games
9th 1500m Freestyle 2016 Rio de Janeiro Olympic Games
Gold Medallist 4 x 200m Freestyle 2013 Australian Youth Olympic
Interests: snowboarding, wake boarding, video games and movies
Instagram: @jackmcloughlin
SHAYNA JACK BIO
EVENT: SWIMMING 50m/100m FREESTYLE
HIGHEST ACHIEVEMENT: 2018 COMMONWEALTH GAMES GOLD MEDALLIST
Shayna Jack is a short distance freestyle specialist. In 2017, she broke the Australian 100m freestyle record for 18-years age group, a record previously held by Bronte Campbell.
Later in 2017, Shayna competed at the World Championships leading out the Australian 4x100m freestyle relay and securing a silver medal.
2018 was a standout year for Shayna beginning with the Gold Coast Commonwealth Games. Shayna helped lead the Australian team to two gold medals in the 4x100 metre relay. Further to that she placed 4th in the individual 50m and 100m freestyle. Shayna topped off her brilliant year with another gold medal at the Pan Pacific Championships in the 4x100m freestyle relay.
Interests: her beloved dog 'Snoopy', and horse riding in the off-season
Instagram: @shayna_jack
For further information contact:
Phil Stoneman: 0414 643 912, email: phil@m5management.com.au
About M5 Management
Founded in 2009, M5 Management is one of Australia's leading commercial sports agencies offering athlete management and career development, consulting services for sporting federations and event rights holders, and M5 Storytelling featuring a select number of athletes with engaging stories to tell for corporate audiences. With over 15 years' experience, M5 offers industry knowledge, domestic and international networks and client commitment that is unique to the Australian market.
In addition to Shayna Jack and Jack McLoughlin, M5 is proud to represent some of Australia's leading athletes such as Ironman and Olympic Swimmer Ky Hurst, Melissa Hauschildt (Triathlon), Jess Ashwood (Swimming) and Matthew Hayman (Cycling). M5 speakers include Olympic basketballer Shane Heal, Hockeyroos Olympic Gold Medallist Nikki Hudson, and Kona triathlon champion, Pete Jacobs.
Author:Phil Stoneman - Christine Coates
Post comment