'M5's Olympic Triple Act - on their road to Tokyo 2020
Posted by Philip Stoneman CEO/Founder M5 Management on 11 April 2019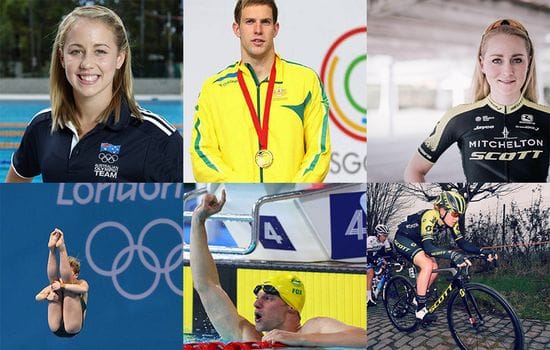 FOR IMMEDIATE RELEASE
April 11th, 2019
'M5's Olympic Triple Act - on their road to Tokyo 2020
There is something special and unique about all athletes M5 represents. Our Olympic trio of Gracie Elvin (road cycling), Dan Fox (Paralympic swimming) and Brittany Broben (diving) are no exception. Competing in very different sports and at different stages of their careers, they all have a story to tell as they enter the final 18 months of preparation before Tokyo.
London Olympic silver medallist
Brittany Broben
is making a sensational comeback to the world diving scene after shoulder injury forced her to relinquish her spot on the Australian team for Rio 2016. During rebab she turned to Triathlon, with only slim hopes of competing at elite level again. To her delight she has made a full recovery, returning to elite diving and is now in strong contention for 2020 Olympic selection.

Paralympian Dan Fox was born with an intellectual disability and began swimming as a toddler. He is now aiming for selection at his third Olympic games, with podium finishes in London (silver) and Rio (bronze) in the 200 metre Freestyle event and more recently a bronze medal at the Gold Coast 2018. The Brisbane-based athlete is well known for his great sense of humour, down to earth manner and candid honesty.
Road cyclist Gracie Elvin, is on a mission to compete at her second Olympic Games. She has considerable experience to draw on including representation at the Rio Olympics 2016, two Commonwealth Games campaigns (Glasgow 2014 and Gold Coast 2018) and domestic and international team racing, currently with UCI Women's team Mitchelton-Scott. Gracie is also a passionate advocate for women's sport, playing a key role in launching the Cyclists' Alliance, which provides support and leadership for female cyclists.
To learn more about these athletes please contact:
Philip Stoneman
Executive Director, M5 Management
M: 0414 643 912
FURTHER INFORMATION:
BRITTANY BROBEN - BIO
EVENT: 10 METRE PLATFORM, 1 METRE SPRINGBOARD
HIGHEST ACHIEVEMENT: OLYMPIC SILVER MEDALLIST, LONDON 2012 at age 16.
Brittany started her diving career at the young age of 11, and her hard work was rewarded with selection for the London 2012 Olympics. It was during this Olympic competition that she showed composure beyond her years to win silver in the 10m platform event. Her elation in being selected for the Rio 2016 Olympic Games team was sadly short lived when she injured her shoulder during training. Brittany reluctantly retired from diving in 2016, before resuming training in 2018

Career Highlights
2012 Silver Medallist London Olympic Games, 10 metre platform
2012 Bronze Medallist Junior World Championships, 10 metre Platform and 1 metre Springboard
2013 World Trials Champion 10 metre Platform and 1 metre Springboard
Interests: Hanging out with her friend and Family, beach time
Instagram: @brittanybroben
GRACIE ELVIN BIO
EVENT: ROAD CYCLING, 1 DAY CLASSICS
HIGHEST ACHIEVEMENT: 2016 OLYMPIC TEAM RIO OLYMPICS
Canberran Gracie Elvin is one of Australia's most respected female cyclists, with a varied sporting background including athletics, horse riding and mountain bike riding. A national U23 champion in mountain biking, Gracie successfully transitioned to road racing in 2012 and has a wealth of experienced gained from racing throughout Europe and at home, in Australia.
Career Highlights
Commonwealth Games representative 2014, 2018
2 x Australian Road Champion 2013,2014
Co-founder The Cyclists Alliance
2018 Cadel Evans Great Ocean Race Silver Medallist
2018 Gooik-Geraardsbergen-Gooik Silver Medallist
Interests: writing,mountain biking, walking, cooking, socialising, reading, music, fashion and magazines
Studies: currently studying for Bachelor of Science at the University of Canberra, majoring in nutrition and psychology.
Instagram: @gracieelvin
DANIEL FOX - BIO
EVENT: PARALYMPIC SWIMMING - 200 FREESTYLE AND BACKSTROKE
HIGHEST ACHIEVEMENT: 2012 SILVER MEDALLIST LONDON PARALYMPICS
Freestyle champion Daniel Fox is based at the TSS on the Gold Coast under the direction of head coach Adam Mallet where he is preparing his Tokyo campaign. Since arriving on the Australian swimming scene in 2010, Dan has been a consistent performer at international level across both freestyle and backstroke events, setting multiple word records along the way.
Career Highlights
2018 Bronze Medallist 200 Freestyle Gold Coast 2018
2016 Bronze Medallist 200 metre Freestyle Rio Paralympics
2014 Gold Medallist 200 metre Freestyle Glasgow Commonwealth Games
2013 Gold Medallist 200 metre Freestyle World Championships
2012 Silver Medallist 200 metre Freestyle London Paralympics
Interests: Daniel loves to follow many sports including Rugby Union, Rugby League and NFL.
He also enjoys boating on Sundays and hanging out with his English Staffy. (Bow)

Instagram: @thedanielfox
About M5 Management
Founded in 2009, M5 Management is one of Australia's leading commercial sports agencies offering athlete management and career development, consulting services for sporting federations and event rights holders, and M5 Storytelling featuring a select number of athletes with engaging stories to tell for corporate audiences. With over 15 years' experience, M5 offers industry knowledge, domestic and international networks and client commitment that is unique to the Australian market.
In addition to our Tokyo Trio, M5 is proud to represent some of Australia's leading athletes such as Ironman and Olympic Swimmer Ky Hurst, Melissa Hauschildt (Triathlon), Jess Ashwood, Jack McLoughlin and Shayna Jack (Swimming) and Matthew Hayman (Cycling). M5 speakers include Olympic basketballer Shane Heal, Hockeyroos Olympic Gold Medallist Nikki Hudson, and Kona triathlon champion, Pete Jacobs.

Author:Philip Stoneman CEO/Founder M5 Management
Post comment